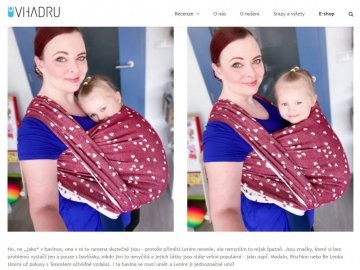 On the blog "V hadru" (In the wrap) they can take beautiful photos of all the tested wraps. That's why we were very happy to send Cherry LOVE for a test and then wait anxiously for the result. We know that the LOVE collection are exceptional cotton wraps and that they are also extra comfortable and beautiful. But there is always a bit of suspense, because one hundred beams, one hundred tastes... The review is out! How did the wrap fit the blogger? Feast your eyes on the photos and see for yourself here:
In the rag: Lenire Cherry LOVE wrap rewiew
Thank you so much for the lovely detailed review!
Lenire