Our logo - little worm, roulade, or...?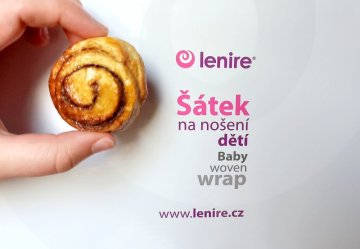 Is it a cinnamon roll? Although the similarity is great, we did not mean either sweet or salt pastries when the logo was created: D Neither earthworms or other worms, nor hypnotic spiral, nor Slovak TV station ... Can you guess what the pink tangle before the name means?
We preferred to have the logo created by a graphic designer, because we miss this type of practical imagination. Animals? No, it already has a lot of baby wrap sellers. Wearing a baby portrait? It's also not very original, we don't want to confuse with anyone. We were looking forward to what the designer would come up with. Finally, we could choose from several proposals, but the winner was clear right away.
Well yes! Spiral! Folded and rolled wrap into a roll. In a simplified form, which is also suitable separately for tiny labels of central marks, instead of a signature at the end of each article, on a stamp, in short, anywhere where there is not enough space ... This will be the Lenire logo :)